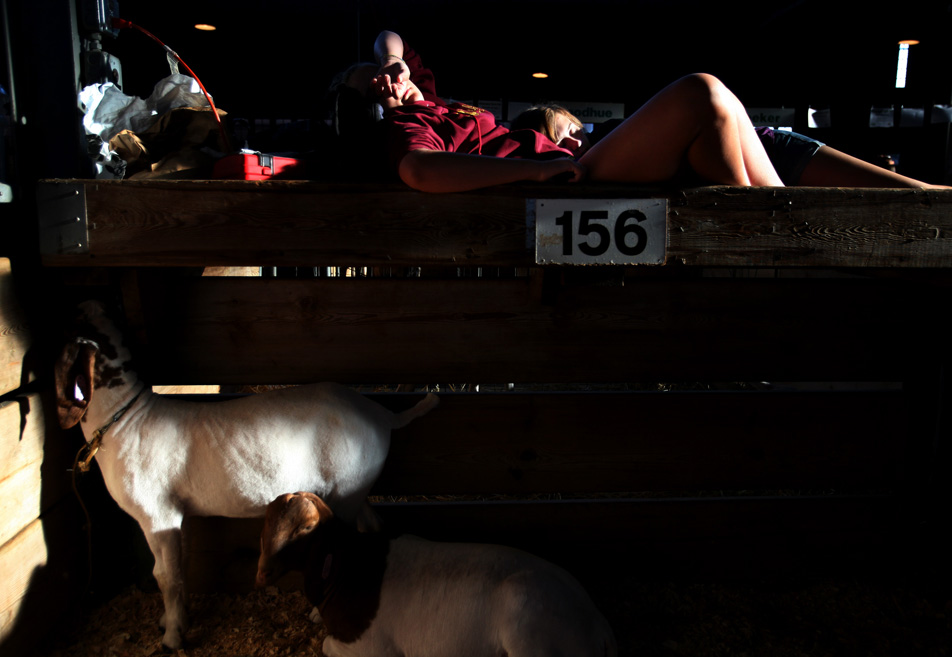 (first light at the fair, via minnesota public radio)
During the last weekend in August, I did my last summer "thing" - I went to the "Great Minnesota Get Together" with Aaron and one of my best friends, Erin, who was visiting from Ohio and had never been to a state fair. We wandered through the animal barns - rows of rabbits, chickens, and geese, freshly groomed heifers and steers, sheared sheep, sleeping hogs. We sat on the curb, ate cheese curds, custard, peaches, and donuts, and watched the crowds. We admired artwork and antique printing machines. We watched draft horse hitches in the hot, still coliseum while eating cotton candy that melted on our fingers. It was hot, sunny, and perfect. After 13 hours, I fell asleep on the way home.
I felt like I was grabbing hold onto the last days of summer with a feeling almost like panic. I was not ready for shoes or wool sweaters, for the dressing of layers. I was not ready for the winter I know is coming. I was not ready for shorter days. I was not ready to feel cold.
But tonight, while Aaron and I took an after-dinner walk along the bike trail, I felt suddenly open to the change. The leaves are beginning to turn. The landscape is changing from hot greens to warm yellows, reds, oranges, and browns. Flowers still bloom. The corn is drying in the fields. The air is lighter.
There are parts of me that are still mourning the long days of summer. But I am also looking forward to riding my bike through cooler temperatures. I'm looking forward to soft flannel, long-simmered stews, homemade bread that warms the kitchen while it bakes. I'm looking forward to gathering around the table with family and friends, hearing their stories, giving what I can.